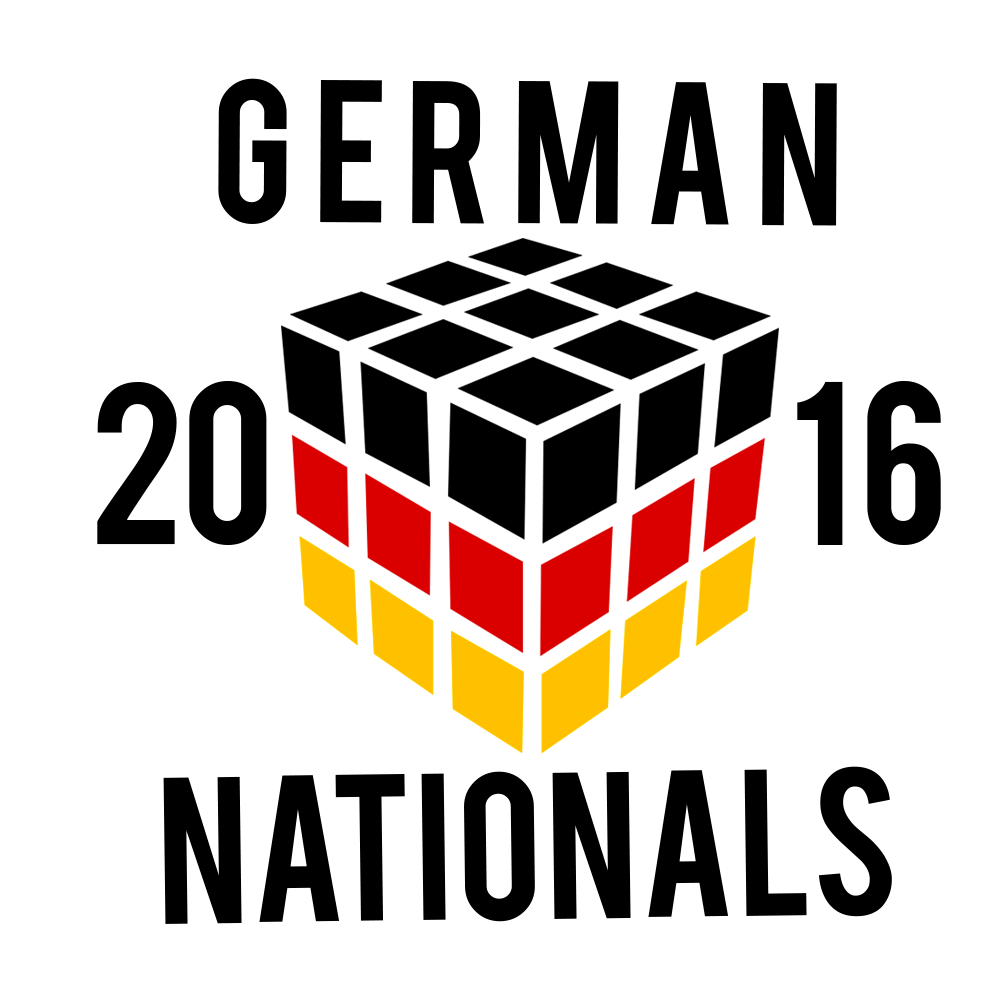 News
August 01, 2016: The registration is closed now! Because of the amount of people on the waiting list we decided to not accept any more registrations.
July 22, 2016: With 160 registered competitors and 60 spectators we have already reached the absolute capacity limits for our venue, so we are not able to accept any more spectators. We are sorry, but this decision is without alternative.
July 12, 2016: The competitor limit has now been reached. Every further registration will be put on a waiting list.
May 31, 2016: All double rooms are gone, but 4-bed rooms are still available. Better reserve soon!
May 22, 2016: The registration has opened!
What is German Nationals 2016?
German Nationals 2016 is a Speedcubing Competition. Speedcubing is the activity of solving a Rubiks Cube or related puzzles as quickly as possible.
Where and when?

07-09 October 2016
Jugendherberge Köln-Deutz
Siegesstraße 5
50679 Köln
Germany
How can I compete?
There is no entrance fee. But to take part at the event - no matter if as competitor or as spectator - it is absolutely necessary to register beforehand!
Attention: There is a limit of 150 competitors.
For Beginners
Every competitor of an official WCA competition is supposed to have knowledge of the official WCA regulations. The most important points about competitions are described in the competitor tutorial from CubingUSA.
Where can I sleep?
We suggest to stay directly at the
venue
. As there is another event in Cologne at the same time the prices are higher than usual.
But for participants of the German Nationals 2016 we have a limited offer of 4-bed rooms for 31,40 € per person per night or double bedrooms for 38,90 € per person per night, both rooms with breakfast.
Attention:
This offer is only valid until July 15th and while stocks last. After this date the prices on the website will apply.
Until June 30th we will only accept requests from groups consisting of competitors only.
Drinks and Food?
JUMBO is sponsoring one voucher per competitor per day for the cafeteria within the venue building. Drinks are not provided, but can be purchased at a small store in the basement of the venue.
Questions
Please feel free to write a mail to germannationals@googlegroups.com.