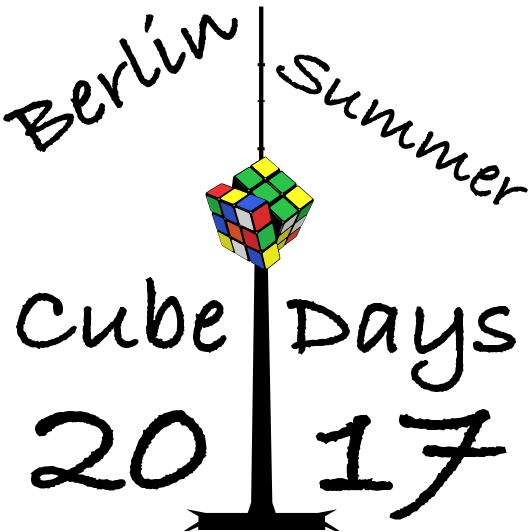 News
June 06, 2017: The registration is closed now.
May 25, 2017: Registration closes on Tuesday, 06th June 2017 on 8pm!
April 02, 2017: The registration is opened now!
What is Berlin Summer Cube Days 2017?
Berlin Summer Cube Days 2017 is a Speedcubing Competition. Speedcubing is the activity of solving a Rubiks Cube or related puzzles as quickly as possible.
Where and when?
10-11 June 2017
Mensa des Rosa-Luxemburg-Gymnasium
(Eingang Borkumstr.)
Kissingenstraße 12
13189 Berlin
Germany
How much does it cost?
1 day
2 days
payment
competitor
12 €
20 €
Paypal / SEPA bank transfer
15 €
25 €
cash (at venue)
guest
6 €
10 €
Paypal/cash (at venue)
Please consider registering in advance, since it simplifies the planning for us.
Please tell us in the commentbox of the registration form that you will pay by cash! Please note that we will only accept paying by cash as long as there is no waiting list. As soon as the competitor limit is reached, paying in advance will be an obligation to make sure you are going to attend.
For beginners...
There will be plenty of time to test the equipment (for example the official timing device, the Stackmat timer) and discuss the rules if you have questions. However, every competitor should have read the official WCA regulations at least once before attending the competition!
Competitor limit
Registration will close when we reach 100 competitors due to limited space.
Accomodation
Here you can find some cheap accomodation not far away from the venue:
Corner Hostel, 12-30 Euro per person and night.
Inn-Berlin, 8,90-39,90 Euro per person and night.
Welcome to Berlin, 19-35 Euro per person and night.
Questions
Please feel free to write an email to berlin-open@gmx.de.